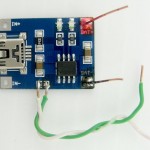 I got a couple of cheap ($1.29) 1A USB LiPo chargers since I'm doing more and more LiPo/LiIon powered stuff.  I mostly discharged a recycled 18650 cell for a test load and it looks like it does charge at nearly 1A.  Two LEDs – red charging, green (mine is blue) fully charged.  Seems like a pretty ideal cheap device.  (But see the comments for significant warnings!)
Since I use a variety of cells, I wanted to be able to charge at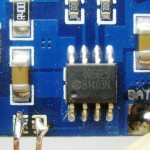 under 1A.  Most such charge controllers have a single resistor that programs the bulk charge current, so I looked for the datasheet to find what values I'd need for the charge currents I wanted.  The chip is marked 4056ES, and there are charge controllers with that number – but they don't match this package layout.  The Ebay ad was titled "5V Mini USB 1A Lithium Battery Charging Lipo Charger Module for Arduino A866", but I couldn't find anything under A866, either.  It says RD084DY002 on the back, but that's not helpful either.  Rats.  (But see update!)
I replaced the likely candidate programming resistor – 1.2K stock – with some leads so I could determine values experimentally.  Here's what I found:
  1 A   1.2K (stock)
~480mA  2.1K
 400mA  2.6K
 200mA  4.9K
 100mA  9.3K
  50mA 18.5K
Now I'm all set for when I need to deploy one.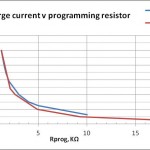 Update 10/8/14:  Thanks to Vitor, we now know the chip is a NanJing Top Power  TP4056.  I did a comparison of the programming resistor vs charge current info from the datasheet, and my empirical data seems reasonable.  Thanks, Vitor!
Update 12/1/14: Looks like it's actually a knockoff of the TP chip, and a possibly dangerous one at that.  Thanks, Halo!
Update 11/22/16: I'm trying to design a quick, cheap, simple test jig I can run a bunch of these charger modules thru before I hand them out at a battery technology for hobbyists class.  I really don't want to hand out bad chargers!
If they come with programming resistors for 1A, how about this:
With input side disconnected, connect battery side to bench power supply at maybe 4.4V and watch current.  If significant current flows, module fails.  (What's significant?  1 mA?  10mA?)
With (bench supply above removed or turned down and) input connected to power – say a 2A USB wall wart charger, running thru a Charge Doctor to monitor current:  Connect a 4 ohm, 5+ watt resistor from battery output to ground and put a good voltmeter across it.  At 1A, that should give around 4V, and "charging" should continue normally.  Verify charging current with Charge Doctor.  Obviously fail if not right.
With load resistor, voltmeter, and power still connected, connect a bench supply (good for > 1A) across the resistor and slowly crank the supply up, watching the good voltmeter.  (Should probably verify first that the bench supply doesn't do anything bad if voltage impressed across its output is greater than the voltage it's set for.)  Use Charge Doctor to verify that charging stops at 4.2V.  Voltage should stay quite constant – though now the bench supply is supplying the current.  What is fail level?  >4.25V?  or <4.15V?  Hmm – I guess we should also verify that the charger doesn't do anything bad when its output voltage remains high after it stops delivering charging current.
Does that sound good?  Any other thoughts or warnings or improvements?
Update next day:  Tried 2 modules, one new stock, one with resistor to charge at 42 mA.  (Used 94 ohm load for the second.)  Both behaved as expected, and passed all tests.  Both showed 0.2V or a little less hysteresis between "done" (green LED) and charging, and went back and forth smoothly.  Charging current seemed to tail off near 4.2V.
So – modules behaved OK, and tests – including the eyebrow-raising connecting a power supply to the output of a battery charger – seem to work OK.  Comments/suggestions are still more than welcome.