Sometimes I want a link to a small video clip, but the only way I've found directly in WordPress makes a text link to the clip.  I usually want a small image as the link – probably a frame from the clip.  Here's the shortest way I've found to do that.  There's probably a better way to do it, but I haven't found it yet.  (WordPress has some direct support for YouTube embeds, but that plasters a big video window into the post.  There are also a bunch of plugins to handle video embeds, but I haven't been moved to dig into them.)
The first two things you need are the URL of an uploaded video and the image you want as a link.  You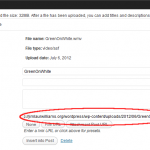 can upload the video to the WordPress Media Library with the regular Upload/Insert button.  I click Select Files, browse to my clip, and click Open.  Once it's uploaded, the dialog you get gives the URL of the uploaded file in the Media Library (circled in red).  Copy that URL and click Save all changes (but not Insert into Post).  Presumably a link to a clip on some video file sharing service would work as well.  (Maybe they even have their own embed code?)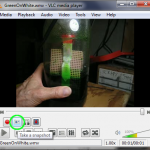 To get an image of a frame from the video, I often use the Take a Snapshot button in VLC (green circle).  You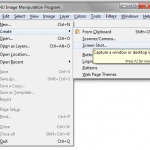 have to enable View->Advanced Controls for that button to show up.  In Windows I think VLC hides the snapshot in the My Pictures folder.  Probably even quicker, since I usually use gimp as my photo editor, is to use its built in screen (or window) snapshot grabber.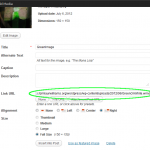 After you have the image you want as your link and the URL of the video, insert the image into your post with Upload/Insert as usual.  But before you click Insert into Post, change the link URL (green) to point to your clip.  Adding a Caption may make it more obvious that it's a link to a clip.  Unfortunately the mouseover popup just shows the name of the image.
Here's a link made using those steps.