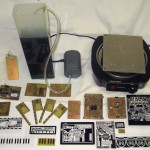 I'll be running a booth at Maker Faire Northside Chicago April 21, 2012.  This post will provide a little info about it.
Rats.  I'm out of town that weekend.  I just wrote Christina to cancel the booth I just submitted a proposal for.  Boo.
Update 7/21/12:  OK, I've signed up to do the demos at the Evanston Mini Maker Faire!