While I was testing the latest version of the recording preamp, I needed a simple audio amp.  A good old LM386 would be fine.  I've been making stuff on printed circuit boards and vector boards for quite a while, and have been using 386s for quite a while, so  the box of old project boards seemed a like good place to look.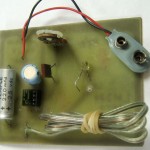 I found just what I needed – a 386 originally designed for a "light wave receiver".  Disconnecting the photo transistor and hooking on a couple of clip leads let me finish my testing.  The amp worked fine.
Afterward, I looked at the amp's grungy old PCB.  As has been my custom for some time, I had put my initials and the date on the board:  10/81.  Using a low tech digital decade counter (my fingers) I realized the board was just about 30 years old!  (I guess I have been using 386s for a long time.)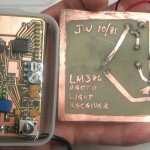 Here's the old PCB posing with the new one it was helping to test.  Things have changed a lot since those Sharpie-as-resist-pen days!