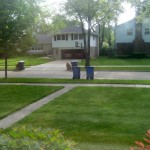 Garbage day always brings the question "Has it been picked up yet?" as I look out the window at the cans.  Sometimes I hear the trucks rumbling down the street and watch the mechanical claw pick up the can, dump it, and set it roughly back down.  But often not.  The well-designed emptying system rarely leaves the lid open showing the can has been emptied.
A scrap of 3/4″ white laminate covered shelf propped up against the can provides an extremely reliable visual indicator.  A similar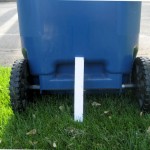 sized chunk of furring strip serves on those rare occasions that I have to put both cans out.
It's a pretty effective remote annunciator for something that doesn't even have a processor in it!