I got a watchdog email shortly before we left for the April Adventure weekend (email: 4/20 6:45P) about datafile and camera pic being older than the 1260 sec threshold.  I couldn't get it running the morning before we left, so didn't start real recovery efforts until 4/24.
SYSTEM THUMB DRIVE
I couldn't ping or ssh to the box, so I power cycled it.  (Yeah, that's a little harsh for a Linux system – but I didn't have many choices.)  Nothing.  I looked around for backups, and found one – from 6 years ago!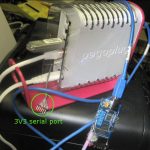 I uncabled the box (power, 485 net, ethernet) and brought it out so I could plug into the 3.3V serial console pigtail I'd installed early on.  It didn't boot as expected, so I tried to look at the system thumb drive.  The main Win10 PC, jimsdellmini (Ubuntu) and Gparted on the red kitchen laptop all did not detect that there was a thumb drive plugged in.  They did see the USB device (like with lsusb), but no storage drive.
I found a very similar 4GB Microcenter drive (with silver laptop Clonezilla on it) and in desperation decided to try to swap the flash chips to try to recover the files, hoping it was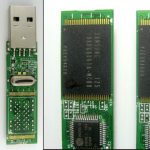 the board or controller chip rather than the flash chip that was bad.
Here are the boards, and the back sides with the flash chips.  Oh no – they're BGA!  Looks like the boards were set up both to take a second flash chip and to take either BGA or leaded (TSSOP?) chips.  Thanks for these using BGAs, Murphy.  Not.
REFLOW ATTEMPT
All work below was with air:3 and heater:8 and a smallish (0.198″OD) tip on the AUYOE Int 906.  I worked with the chips and boards on a firebrick.
First I unsoldered the good chip from its card with hot air.  Took a couple of minutes, but seemed successful.  Then with vague hopes that the bad drive might just have a bad solder joint, I reheated it, hoping to reflow the bad chip on its original card.  When I tried that in jimsdellmini, it still did not show up as a memory device (though it did show up in lsusb).  Nice try.
Then I unsoldered the bad chip from its card.  I put the good chip on the bad card – no prep, no reballing, no cleanup.  I reheated it, purely guessing at the time.  I watched closely, but never saw it move or recenter.
When I plugged the bad card with the good flash into jimsdellmini, the OS found the device and I could see the files from the flash (old clonezilla files).  Plugging it into the Win10 PC, that could see it and its files as well.  Wow – I just successfully resoldered a BGA chip!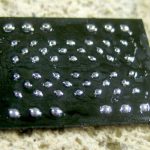 Encouraged, I cleaned off the bad chip with flux and solder wick, and ran a ball of (leaded) solder across it, providing what looked (to eyes that had never seen one) like an appropriate reballing.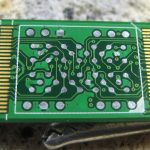 I cleaned the previously good card with flux/wick, put the reballed bad chip on it, then heated it to reflow.  Watched, but never saw it move.  Did wiggle the board a little a couple of times to try to help it find home.  When I took it off (and let it cool), the chip seemed well adhered, so presumably at least some solder melted, though I can't be at all certain all the balls did.  But I'm hoping the extra prep increased the chances of good soldering compared to the first (good chip, bad board) try – which worked with no extra prep.
When I put the good board/bad flash in jimsdellmini, lsusb could see it, but it didn't appear as a file system.  The Win10 PC could see the device, but no file system as well.  Nice try.  🙁
Despite efforts to take good notes, either I screwed up multiple times or the USB ID moved with the flash chip (which is very unlikely).  Boo on me.  But I eventually did enough retries comparing lsusb output to convince myself I had done what I intended (like not putting the bad chip back on the bad board), and that it really didn't work.
In any event, I've done all the due diligence I know how to do, and so can completely give up on trying to resurrect the files from the old working drive.  Bummer, but with closure.
MOVING ON
OK – I'm now confident I'll never get the files back from the original thumb drive.  Time to move on.  I had a backup tar from 10/6/11 (!), and with the notes here untarred it to a random 8GB drive from the thumb drive box.  It booted, and thanks to the serial console, I got it sort of running.  I think the ftp password to the Godaddy host had changed, and the IP of the AT&T first router had changed, and probably some other stuff.
But its (6 year!) old 485pollB.pl talked to the existing HA nodes, got data from them, and pushed it to the Godaddy host.  We're back on the air!
Well, sort of.  All the camera stuff was implemented since that backup, so had no hope of working.  And the graphs didn't update like they used to.  I feared the data format had been updated somehow, and the parser on the web host was looking for something that wasn't there any more/yet (and that I had zero recollection of).
Several weeks later (6/20/17), I dug around trying to figure out why the graphs didn't update.  Between looking at the code and finding and reading the note on "Home Page Speedup"  I slowly realized the poll perl script on the pogo not only ftp'd update data, but invoked (with wget) the graphs.php script on the host that actually updates the graphs.  After a few stumbles I put that into a new 485pollC.pl and got it working.  Now the graphs update automatically again – yay!
BACKUP
First on the agenda is a workable backup method.  I don't remember whether I had a backup script on the old drive, but at least there's a good start in the project notes from the last painful rebuild.
I copied and touched up that script so just running "gobackup" in perl/backup will (presumably) make a backup tar file and put it on the main PC as F:\pogobackup.MMDDYYYY.tar.  If I can just remember to run that when I make a change (or maybe put it in a cron job)!  To that end, I put a banner in the motd saying "IF YOU TOUCH ANYTHING HERE, UPDATE THE BACKUP!"  And after 485pollC.pl was actually running graphs.php, I kicked off a backup. 🙂  A backup file appeared on the main PC, but I haven't tried to put it on a new thumb drive.
Maybe make a watchdog that checks sums on some main files and sends an email backup reminder if they've changed?  What files?  Main perl files, hosts, rc stuff?  Should all data like credentials be hosted in a single file and read by the scripts?  Here's a first crack at a list:
FILES TO CHECK:
in /perl:
485pollB.pl
pingstat.pl
sendusr1
sprinkler-cron.txt
getusgs
go485
in /etc:
hosts
conf.d
rc.d
rc.conf
rc.local
STILL TO DO
I'd really like the camera stuff working again.  The old system used jimsdellmini to get images from the camera and push them to the pogo, which eventually pushed them to the host.  I think the two reasons I used another machine instead of hosting all that on the pogo were a) a concern that the somewhat compute-intensive image processing burst might interfere with the serial polling of the HA nodes, and b) not wanting to have the HA system bouncing while I tried to get it all working.But if I integrated the camera stuff into the main poll script rather than as a separate process, I could avoid messing with the serial polls.  And I'd get jimsdellmini out of the critical path and more usable for other stuff.
And of course implementing a more rational database – like RRD? – has been on the list for a long time, but that's a pretty big deal.
It would often be helpful to have an easy way to add annotations to any of the graphs/data sets to comment on special things that happened.  That will probably wait until a more final database is implemented, but who knows?  Maybe some clever hack will occur to me.
And I'd really like the water meter reader to work again.  I even looked at it a few weeks ago and could see that the optics could still be aligned on the red spinning arrow, providing enough brightness variation that I'm surprised the phototran couldn't see it.  Maybe it's just a drift/reset the bias thing.
Probably the easiest to to fix the bug that reports extraneous power outages after restarts.  Maybe some day.