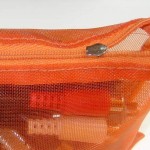 The bits of hardware that attach the zipper pull to the slide broke off on the orange mesh bag that holds adapters in my black recording bag.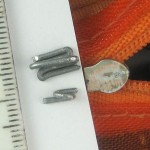 As a replacement, I made a loop out of 17 ga baling wire with extra wire to provide surface area about matching the slide for gluing.  The first one I made (without looking at the slide) was silly too small.  Oops.  I cleaned and roughed up the surfaces and stuck the loop on with 5 minute HF epoxy.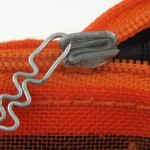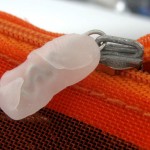 For a pull, mildly inspired by a zipper pull replacement Andrew made out of a paper clip and Suguru, I formed a bit of paper clip wire so it wouldn't slip out and folded and squished a rectangle of Shapelock around it.  It's completely functional.
I tried to make a fairly uniform sheet of the plastic by shaping it into a rough rectangle, pressing it against a smooth flat surface, flipping it over and pressing it again.  That worked pretty well for thickness, but because the overall outline wasn't a neat rectangle, the finished pull looks fairly sloppy.  Next time, by paying attention to both the thickness (by flattening as above) and making a neat squared-off outline (maybe cutting it hot with scissors?) I bet you could make quite a neat looking whatever.  It's interesting to watch the progression from the initial 'aha' that you can actually make stuff with Shapelock to polishing and refining the techniques.