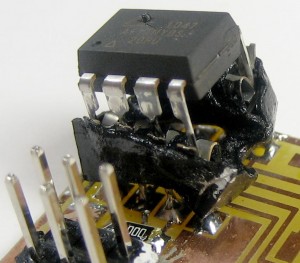 While working on stuff for the upcoming Tiny85 class, I accidentally plugged one in backwards.  After I heard the little "poof" I unplugged it and tried to pry the chip out before I realized it had gotten hot enough that all the solder connections were still molten and the socket was coming out of the board.
You can see the spot on the top of the chip where all the magic smoke escaped.  You can maybe convince yourself you can see the pin-1-end notch in what's left of the socket – and the pin 1 dimple on the chip.
I was trying to program the '85 with an ArduinoISP at the time of the incident.  The good news is that both the Diavolino and the USB-serial cable powering it survived even after delivering enough power to do the damage shown.