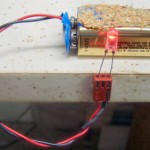 One of the very useful tools that has earned a permanent installation on my bench is an LED tester.  It's just an old 9V battery, a 560Ω resistor and a socket I can slip LED leads into.
The battery was past the end of its useful life for a 9V application, but at 6 or 7 volts still fine to light an LED.  With that voltage and resistor, it's safe for most any color of LED (different forward voltages), but still allows enough current to light it nicely.
Since the battery doesn't have to be replaced very often (the one in the picture has 1/91 scribbled on it!) I just hot-melt glued it under the bench far enough back for the wires to not hang down.  (I pried it off just for this picture.  Can you tell?)  The flat socket (also hot-melted on) is never in the way, but always available.  Highly recommended.
[The picture above with the lighted LED is almost impossible to take.  It's the result of some HDR techniques I'm just starting to play with.]