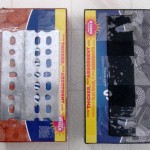 It's annoying when the Kleenex box lifts up as you pull out a tissue because the box is almost empty.
Some heavyish scrap taped to the bottom fixes the problem.  The one on the left is about 6 ounces; I suspect the other's about the same.  It's invisible, quick and easy to move to the next box, and it works well.
The only downside is that you lose much of the 'box is almost empty' feedback.  That tradeoff is worthwhile for me.