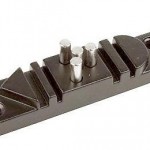 I've wanted a wire bender for quite a while.  (Not one of those little jewelry wire benders – I can do most of what that does with a pair of needle nose pliers.)  Ever since I've been stocking that nice #7 (.014″) steel wire I've needed something to form tight > 90 degree bends in it to make custom hangers for stuff.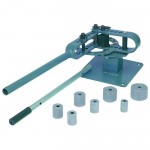 One of the first benders I found was the $83 big honker at Harbor Freight.  But after I saw how big it was (in a review on YouTube – who reviews HF stuff??), it was clear it was overkill.  I did almost get one for the space, but it would hardly earn its real estate keep with the limited space there.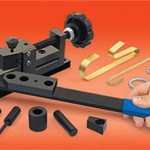 Then there's that nice $100 bender at MicroMark that would probably do about anything I'd ever need, but even on sale that's a lot to pay for something I'd only use occasionally.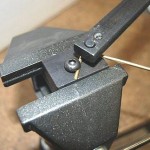 There are other cheaper ones – like the classic K&S.  The eye opener was that you used a vise to hold one part.  Ah – that makes sense!  That was tempting, but I never got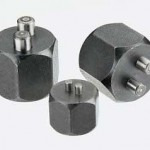 around to ordering one.  And then I found the elegant Harry Higley benders (in 3 sizes).  Effective and inexpensive, I almost got some.  But they were so simple, I thought I could probably make something like that myself.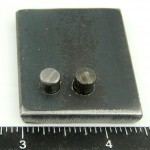 It took most of a year to get around to it, but I finally made one.  It's a chunk of 1/4″ steel bar with two 1/4″ holes, plus a couple of pins cut from an old 1/4″ drill bit.  It's not as nice as Harry's, but it was all from scrap and it works for the heavy wire I needed it for.  Together with some simple operations in the vise, it should let me make about anything I need.  And the bar is big enough that there's room for some additional pins if I need them some day.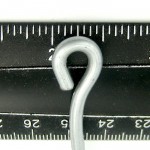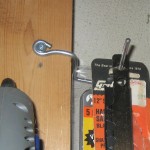 Here's the first eye I bent with it in some of that #7 wire, used for a parts hanger.  (There was a little vise work to get it to that size, but it was all easy.)
And now that it's made, I gave it its own little home near the vise where it can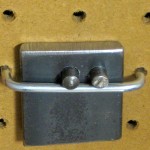 watch out over the shop until the next time it's needed.  This one is a winner.  It knocks something off the "someday" list, does just what I wanted, and it was free!